Ok, my second design Cactus Catz t-shirt arrived.  I used my calico Pinkie as the centerpiece of my design.
I thought she was cute and did a cut out.
I chose a Bella+Canvas Slouchy Boyfriend T-Shirt, White, Adult 2X — the collar was wider than the basic t-shirt. I like wider collars.  Zazzle described it as "The open neckline Bella Flowy simple t-shirt is the right mix of style and casual comfort that's perfect for fashionable or everyday activities. A luxuriously soft fabrication designed to drape your body for a modern yet effortless style. …"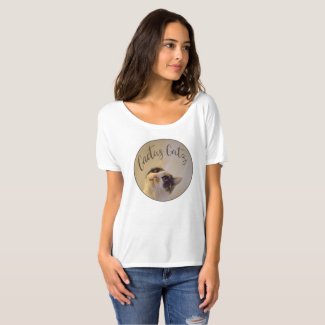 Cactus Catz T-Shirt
I loved the way it looked on the model when I uploaded the design.  (whispers "but I"m not that skinny")
When the shirt arrived, the colors were a little lighter than my uploaded image.  Because it was less intense than my colors, Carol pointed out it was hard to see Pinkie's left ear — the ear faded into the background.
The shirt is very soft and comfy but also very thin.  You could see my bra straps and the grey of my pants.  Because I am big (plump, thick, etc), the wide neck came across as sloppy.  On me, the shirt had the stretched out, thinned look of a t-shirt that you've had for a few years and grown comfy in.  Since the summers are very hot here, the thinness is not a big deal — it'll feel great during the summer. My overall assessment: very comfy but something I would wear around the house and not to go out in.
In terms of design — I am redoing it and will burn in Pinkies left ear more to make a greater contrast to the background.  I also noticed the design was bluer than mine.  More blue or cyan — not sure which. So it may need a little extra yellow or maybe magenta to bring it back to my original colors. 5 or 10% more? And is this color difference consistent or does it vary from machine to machine? I may need to oversharpen images a little too as the details become a little softer on fabric.
The design is printed directly on the t-shirt so it doesn't have the intense pop of a screenprint but does have a  softer feel to it.  I like that the cloth is not stiff and does drape naturally. I wonder if I overintensify the colors, if it will come out right on the money once it's printed.  I am also curious to see how long the design lasts through washes.
Okay my second design is off the table.  I am learning with each thing I make.  I'd like to learn screenprinting.  I do like the pop of screenprinting and some of my stuff would look better with more pop — the fantasy stuff.  I think the reality stuff works well with the direct-to-garment (dtg) printing.
$30.75  Bella+Canvas Slouchy Boyfriend T-Shirt, White, Adult 2X
(less $4 in sizes S – XL)
$26.14 at 15% off
$18.45 at 40% off
(sale prices are mentioned because Zazzle regularly has different categories on sale — keep an eye out for the category you want.)
---
disclaimer: as a designer of the cards, Zazzle gives me a royalty if anyone buys anything with my design. As an associate, I may earn a commission if someone buys something by clicking links on this page whether or not I'm the designer.