As Kyle and Melissa are getting married, I thought I might get them a pillow with their initials.  As it turns out, she said too many people chose pillows off her registry so she doesn't need another pillow.
The pillow is personalizable with anyone's initials.
I would be curious to see the pillow to see how the print turns out, if the color goes through the seams or if there will be a white edging like with the sock.  I left the pillow up but will get one when they go on sale again.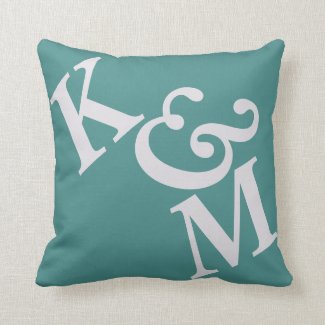 Initial & Initial teal pillow (personalize)
---
disclaimer: as a designer of the cards, Zazzle gives me a royalty if anyone buys anything with my design. As an associate, I may earn a commission if someone buys something by clicking links on this page whether or not I'm the designer.