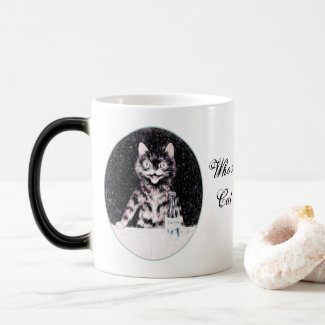 Who's a Crazy Cat Lady? 11oz Mug
This morphing mug is fun.  I put my "Who's a crazy cat lady?" on a 20oz mug.  Zazzle make it easy to port the same image and text over to other products so I did that with the other mugs.  I had to resize the cat a little but I didn't have to retype all the info.
As my sample, I bought myself the morphing mug as I was curious about it.  When it arrives, it looks like a very dark gray mug.  The blacks in your design barely show through the gray. if you look at the photograph to the right, you can see the black background behind the cat and the black stripes in the fur.
Watch what happens when you add hot liquid ….
I think it's a lot of fun.  A perky pick-me-up in the morning.  I might do another design with the darkest color being dark gray in it so it is hidden behind the coating.  It would be fun to put something like "Are you sure you haven't had enough to drink?" on it and give a friend a hot toddy.  Then watch their face as the text or image emerges.
---
disclaimer: as a designer of the cards, Zazzle gives me a royalty if anyone buys anything with my design. As an associate, I may earn a commission if someone buys something by clicking links on this page whether or not I'm the designer.