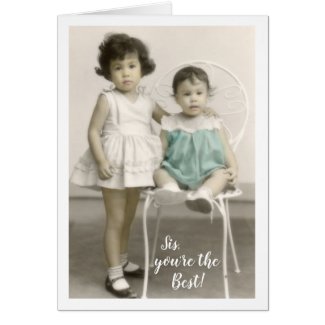 Sis, you're the best! (two areas to personalize) card
A picture of myself and my sister that I colored in Photoshop and then desaturated for a more vintage look.  I'm waiting for one that ordered so no review yet.
I set up two separate areas where the customer can change the text.
"Sis" can be changed, for example, to their sister's name.
"you're the Best!" can be changed to anything.  I'm a little worried about that one as if the words are too long, design-wise the phrase won't fit under the chair.  Or if they remove the carriage return then "Best!" will be on the same line as "you're the".  Hopefully, most people are only likely to change the last word. I thought I should give the option of the whole sentence though in case they want to say, "you're my Bestie!"  changing "the" as well as "Best".  Crosses my fingers it all works out.
What do you think?
---
disclaimer: as a designer of the cards, Zazzle gives me a royalty if anyone buys anything with my design. As an associate, I may earn a commission if someone buys something by clicking links on this page whether or not I'm the designer.