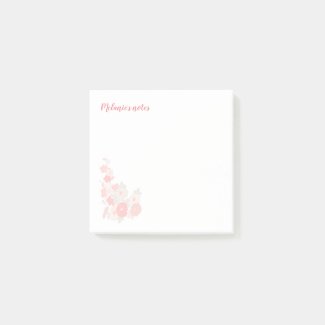 Kimono flowers post-its 3×3 (personalize) post-it notes
I got back the Kimono Flower post-it.  I'm pretty happy with it.  It came back a bit lighter than what I put up but I'm good with that.  I wanted it pastelly for people to write on.
I did it with Sharon's name as she likes Asian stuff so I thought I'd give her one.  Now that I've been pretty happy with my post-it prototypes, I can design them and not worry so much about getting a physical copy to check it.
Amazon
I uploaded my first t-shirt design to Amazon today.  I can only upload one design a day and only up to 10 designs until I sell 10 items.  Then I'm allowed to upload 100 designs.  They also vet my design to make sure they fit their rules.  So crossing my fingers I pass the test.
Amber
I told Amber about uploading the t-shirt to Amazon.  Later in the conversation, she twisted a funny line from Shakespeare by saying one word wrong.  It's a line that guys would crack up over.  I told her she should totally do a t-shirt with that but she said no, you use it.
It's so funny.  She's casting around for some way to make extra money.  She is perfect for t-shirts.  She constantly throws off original one-liners.  What I wouldn't give for that talent!  I'm just not funny.  Yet she takes her talent so much for granted because it's a part of her that she cannot see how funny she is.
Jhan
Jhan has opened a shop, Craftonoisseur, on Etsy, making bracelets as well as things for nurses.  Pretty cool
Zazzle Shop Name and Url
I'd like to ask you all what you think I should do.  When you start a shop in Zazzle, they put your shop name at the end of the url like www.zazzle.com / your shop name (all run together) .  I changed my shop name.  So here's a little bit about how are things are working for right now and then my question.
When I started on Zazzle, I initially named my shop Cactus Catz.  Pretty soon I realized that gave a false impression because most things I designed were not cats.  So I changed my shop name to Cactus Dreams.  Zazzle let me change the name of my shop in the header and the logo.  Also it's changed in my items where it says "designed by Cactus Dreams".  Problem is the name in the url is still "cactuscatz" and the shop name Zazzle links to is "CactusCatz".  If I do a search for "Cactus Dreams", my items show up along with everybody else's who uses "cactus" and "dreams", not necessarily together, in their product name or description because I have tagged my items "Cactus Dreams".  But if I do a search for "cactuscatz", all my stuff shows up. However nothing shows up with "cactus catz" seperated by a space.
The only way to change the url to cactusdreams is to open a new shop from scratch and move my products over. I don't think they will aggregate the income from the different shops so it would probably mean not getting the money from Cactus Catz for a long time (I could make it just a cat design shop).  Since I get a little designer kickback even when I buy my own stuff, it's a little money but not much because outside of me buying prototypes, I've only sold a keychain and two t-shirts to friends.
So what do you think I should do?  Should I just leave it as it is because people just copy and past urls anyways or right click?  or should I open a new shop so the url will match the shop name?
---
disclaimer: as a designer of the cards, Zazzle gives me a royalty if anyone buys anything with my design. As an associate, I may earn a commission if someone buys something by clicking links on this page whether or not I'm the designer.