I thought I'd try something different to jumpstart me creating again.  I like having a challenge to inspire me.  Today I started with K'lee and Dale's Cosmic Photo Challenge.  They deliver their prompt on Friday and you can ping them back on Monday.  This week's prompt is "Pieces of a Dream in B&W" set forth by K'lee on Friday.  When you get it done, pingback to K'Lee's challenge results post.  I have also joined the Creative Mondays blog hop over at ClairJustine's.
I flipped one of my color pictures to B&W using Calculations under the image menu  .  Because I liked the picture tilted, I copied the outer diameter and expanded it to create a frame on the diagonal.  I thought adding the outer frame was a fun play on "pieces".  Whose dream is it?  The butterfly's dream, of course.
I wanted to do something with it so I decided to make a 5×7 note card on Zazzle.  I added a bit of text and viola!  The text is personalizable so anybody can change it to whatever they want or even take them off.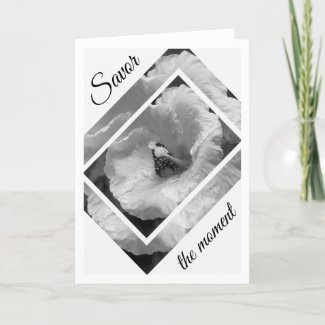 Black and White Butterfly Savor the moment Card
by Cactus Dreams Zazzle Store
I'll see how the card prints out.  Then I'll probably put it on a journal.  I think it would make a great journal cover.
References:
K'lee and Dale's Cosmic Photo Challenge: Pieces of a Dream in Black and White!
Obzervashunal
disclaimer: as a designer of the cards, Zazzle gives me a royalty if anyone buys anything with my design. As an associate, I may earn a commission if someone buys something by clicking links on this page whether or not I'm the designer.