So today's featured Photo Challenges are Time to Relax and Cee's Fun Foto (orange, vintage).
The Lens Artist Photo Challenges (Time to Relax this week) is in their third week.  A group of four people banded together to present a weekly photo challenge when the Daily Post shut down their photo challenge. Each week a different person presents the prompt on their blog.  Every third week it will be presented by The World is a Book.
Cee is trying something new with her popular Fun Foto Challenge.  This is her second Tuesday to present a photo and you are welcome to use anything in the photo as the inspiration for your photo.  For example this week her image featured a mural with an orange octopus near a vintage blue truck.  So you can choose murals, orange, octopus, blue, truck or vintage or any other color/idea the image triggers for you.
I have also joined the Creative Mondays blog hop over at ClairJustine's.
So to create today's card, I started with this photograph of a butterfly taking its time, relaxing while it sipped nectar in Tucson Botanical Gardens butterfly room.  I love the butterfly room.  It's a great place to go and take photos.  There are even benches so you can relax while the butterflies are fluttering all around you.  You have to be a little careful though not to step on them.
Let's week, I played around with this image and created an all b&w image, set it at the diagonal and framed in a reflection for Design 28.  I wasn't done creating with this photo though.  This week I did something a bit different.  I went with a black and white again but decided to make a color key point, the orange color being a tad muted to be more "vintage".
From there I made a 5×7 note card on Zazzle.  I added  personalizable text so anybody can change it to whatever they want or even take them off.  I am focusing on cards this week because Zazzle is having a 60% sale on cards  for four days.  As a newish designer, I don't get samples from Zazzle for free so prefer to make goods when they are on sale as I like to see how they turn out.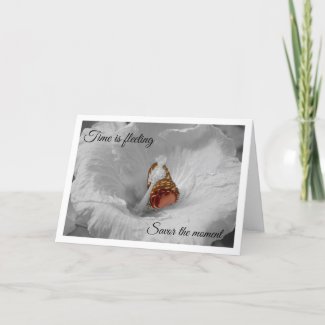 B&W Flower, Color Butterfly, Time is fleeting Card
by Cactus Dreams
I like the picture a lot so I am thinking of making a T-shirt on Merch Amazon like my Cactus Dreams T-shirt.  Only for t-shirts, I am thinking no text.  What do you think?  On a t-shirt, would it be better with or without text.
---
disclaimer: as a designer of the cards, Zazzle gives me a royalty if anyone buys anything with my design. As an associate, I may earn a commission if someone buys something by clicking links on this page whether or not I'm the designer.