Okay so today, I'm in a hurry.  I want to keep my commitment to a weekend photograph/digital art and making something whether it's a card or something else.  But I  am driving to San Jose today soo… not sure what to do.  First I checked the photo challenges for the week.  I hit the onblogging.net photo prompts page to see if I could find something simple and quick, clicking the links to different folk's photo prompts.  They are all weekly which helps.  You might want to look at these too in case there is a photo challenge you'd like to join
Sunday Challenges (7/29) (because today's Sunday, some of them don't have a post up yet on the day but they have post of monthly prompts so I used those and the link is to the blog, post will probably be up later today)
Saturday Challenges (7/28)
Friday Challenges (7/27)
Thursday Challenges (7/26)
Wednesday Challenges (7/25)
Tuesday Challenges (7/24)
Okay, still drawing a blank.  Let's see what Zazzle has on sale today. Okay 40% off is mugs and notebooks.  Mugs are horizontal.  Notebooks are vertical.
Klee's and Dale's Beautiful Spirits of the Natural World is the one beginning to pull at me.  I have a couple of hawk pictures.
ok, i want to make it look more like a drawing, or maybe a vintage photo.  So I'm going to try a couple things in Topaz and see what I like which means changing it into a tiff.  In Topaz I tried some different effects like Cezanne, Cave Dweller, Decaying Laurels, and Chiaroscuro.  I exported it back out and opened them in Photoshop then experimented with layering them and using blend modes in various combinations.  What I ended up with was this with the second photo
I like it.  It looks vintage.  I don't know what to do with it though.  It's not really a mug image.  Maybe another card.  It has a good space in there where people can write anything like "Hello from Arizona".  Yep, I'll do the card.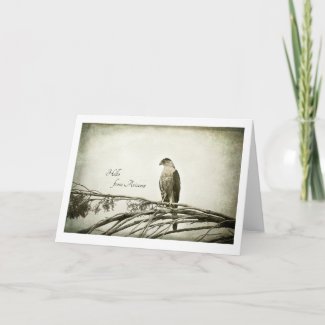 Hawk, vintage style, blank notecard
Cactus Dreams on Zazzle
And there we go.  Card is done.  Okay so the photo challenges i'll submit this to are
What do you think of the hawk's photo transformation?
I did this post as I started the process of choosing a photo challenge, choosing a fitting image for the challenge, changing the pic,deciding what real physical thing to use the photo for and then finally showing the final product.    Did you enjoy the process, seeing the various photo challenges out there and their prompts, and how I ended up with what I did?  Or do you prefer just cutting to the chase, show the pic and the final with listing only the chosen photo challenges?
---
disclaimer: as a designer of the cards, Zazzle gives me a royalty if anyone buys anything with my design. As an associate, I may earn a commission if someone buys something by clicking links on this page whether or not I'm the designer.