Yay! I finally made another t-shirt.  So happy.  Actually made two so I'm on a roll.  Here is my first one.  What do you think?
and then I did another one
I have some more latte/coffee sayings I could do.
They come in 5 colors and mens and womens although I doubt guys would wear it.  I do wish Merch Amazon had v- or scoop necklines for women.  Oh cool thing is Merch Amazon is spreading into UK and Germany so in a few months my designs will be over there too.
On this design, I used a picture of a real latte with a heart I took in a California cafe.  The only thing is that it has bubbles.  Do you think I should flatten it and make it into a graphic design latte heart so that the image is more flat — no bubbles.  The bubbles are a result of the frothing of the milk for a latte.  Coffee is smoother because the milk isn't frothed.  I could smooth out the bubbles to make the surface look flatter but that makes it less of a latte.  What do you think?  Realism or a more flatter more illustrative type look?
I probably will go 2-d graphic design type latte with Zazzle because I think they will print better there if I only do one color. Merch Amazon does a pretty good job on photos.  Zazzle's photos' colors look more faded which doesn't matter so much with the latte. I like Merch Amazon's printing better but Zazzle has a much better selection of styles with all kinds of shirts for women like razor back, tank tops, crops and lots more.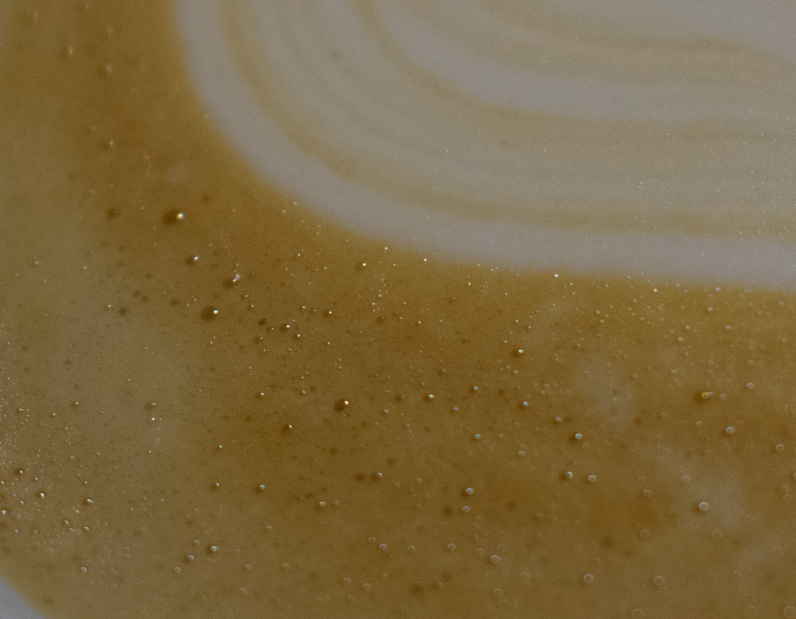 close up on the bubbles
©2018 M.LaFreniere, all rights reserved
Disclaimer: I am the t-shirt designer and created the poem. T-shirt designers in the Merch Amazon program get a royalty based on the shirt type and price. I am also an Amazon affiliate. Amazon requires this next quote for their affiliate program: "We are a participant in the Amazon Services LLC Associates Program, an affiliate advertising program designed to provide a means for us to earn fees by linking to Amazon.com and affiliated sites."