I think I'm going to go on a coffee binge.  I do love latte art.  Here's a cool leaf done by the barista at Crave Coffee Bar in Tucson.  It didn't last long after I photographed it. Yum! Latte art is like that.  It lasts but a moment and then it's gone, sipped in a moment of pure bliss.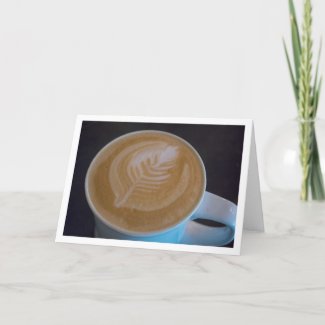 The Latte Leaf blank card on other country sites:
Australia
Canada
France
Germany
Japan 日本
Netherlands
New Zealand
Spain
United Kingdom
I've started a coffee & tea section under notecards in my menu.
I'll be selling my notecards through Zazzle. Just a note on Zazzle shipping.  In the USA and UK, they have the Black Zazzle shipping program which is $5.99/£12 to get free shipping for a year. If you think you might buy other Zazzle, it's  a good deal.  If you haven't tried it before,you can sign up for a free one-month trial.  I love it.
disclaimer: as a designer of the cards, Zazzle gives me a royalty if anyone buys anything with my design. As an affiliate, I may earn a commission if someone buys something by clicking links on this page. With affiliate links, it doesn't matter if it's designed by myself or someone else.