I've been playing with Instagram.  So fun!  Thing is I love coffee and it turns out so do a lot of other folks.  So I get likes when I post a latte art photo which was easy in California because a lot of cafes do that.  Back in Arizona though, I have a problem because so far I've only found Crave Coffee Bar.  I would love to do a series of a travel blog of latte art.  Does anyone have an RV they can lend me?  What? I'm serious.  I need an RV and gas to travel with my cats.  I am putting this out into the universe because they say there are 6 degrees of separation between you and each person so somewhere out there is someone only six degrees away with an RV and gas for my trip. I could post daily pics of the RV — so I'm putting that thought out into the universe in case there is an RV manufacturer out there who would love to host my latte trip across 48 states — well maybe 49 including Alaska. Yeah! Go across the USA sipping lattes.  What's not to love?
Okay, until that happens, I am thinking of doing a "Daily Dose: coffee" feature on my Instagram.  Since I don't have a lot of coffee pictures to pull from (and yes, I think it's time I started learning to make my own damn lattes), I want to do a series with different lines, maybe a coffee quote I make up, a coffee haiku/senryu, or maybe a coffee factoid.
the new card made today to match Daily dose. Zazzle doesn't have a square card so reformatted to a rectangle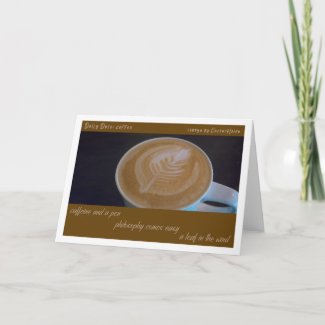 Daily dose #1 : Leaf in the Wind Coffee Haiku Card
with customizable text so people can swap out my haiku for their poem or words

the blank one, no text
My images on Instagram has been morphing rapidly in the last month.  Instagram is a square format but photos are rectangular so I've been framing the top and bottom (or sides) of the photos in black which turned out great because it gives me a place to write things like who, what, where.  I started adding the artist and location to the mural photos.  Then added the quote to a coffee image. Today I realize it's big enough to fit a 3-liner poem although it's a bit of a squeeze.  Plus, I changed the framing collar to a coffee color which I think works well with the "Daily dose: coffee" idea.  Right now, I decided I'd make a "Daily dose : coffee" feature for people like me who love coffee.
Now the "Daily dose : coffee" needs a home blog.  I thought of my Cactus Haiku and Cactus Catz blogs but to me they have their own personalities now.  So "Daily dose: coffee" has landed on Cactus Dreams.  Cactus Dreams has a handful of followers.  (Sends a shout out to theresaly520, iScriblr,مؤسسة بن معلاق للمقاولات ونقل المهام, tatianatravelways, Michael, BallesWorld, leapingtoes, Alice DeForest, inkdropk, pvcann, The Godly Chic Diaries).  Most of you have come over from Cactus Haiku and Cactus Catz and have been really sweet while  I experiment with Cactus Dreams creating a store and a personality.  I've noticed with blogs, the beginning they change a lot until they settle into a personality.  Even when a person has several blogs, it seems to me that each blog is a bit different somehow.  With Cactus Dreams I want to change my writing style — write less, show more.  More like Instagram.  I see Cactus Haiku as my writing blog — well, actually the kitchen sink because I feel comfortable writing about anything that pops into my mind there.  Cactus Catz is mostly lifestyle in Tucson like murals, restaurants and me losing weight.  It has a more personal feel.  Cactus Dreams is my store blog but also my photographs, my transformed photographs and eventually my art.  Now I'll be adding other people's art like cards and t-shirts and stuff.
So with "Daily dose : coffee"  since it will be here, I'll create a card with each one.  There will be the blank one (not text, just coffee photo), one card with personalizable text so people can change the text to their own words or poem if they like, and then a range of cards where the text can't be changed.  There'll be  a range of cards with the same pic but different text unless I learn to make fabulous lattes, lol. We'll see how it goes.  I am also experimenting with the t-shirt lists.  Like I said, Cactus Dreams is in an experimental stage.
---
other fun coffee cards
For fun, here are some other coffee cards I saw on Amazon. Click the image to go to the card.
From Amazon:
As an affiliate for  companies, if you click a link above and buy something, I get a small percentage or fee. On Zazzle, I am also a designer. On items, I designed I get a small percentage. The royalty fee is smaller than the affiliate fee which I think is ironic. Amazon's disclosure: "We are a participant in the Amazon Services LLC Associates Program, an affiliate advertising program designed to provide a means for us to earn fees by linking to Amazon.com and affiliated sites."