Rejects
Post-its: I want to make some changes in these but for some reason they are not showing up on my store page so can't edit or delete them.
Pillows: not really rejects.  I did the design up for K&M and they said people bought a lot of pillows off their wedding registry list.  I just don't want to put a pillow up in the good pile until I see how they turn out.  Maybe I'll do one up for Lisa and Kris the next time they go on sale.
Socks: prints on the white sock.  had a black line down the middle in the front and the back.  I think the designs can only be on white.  Flowers looked great though.
Notecards:
On the Mermaid, I was experimenting with an image I created and redid it in 3 styles: El Greco, Expressionist and Impressionist.  I asked people which one they liked best.  Expressionist is in the lead.  I am going to delete the other two from the Zazzle market but want to wait until I get my card unless one of the cards changes my mind.
Further note.  All the cards came out cool.  I put the Greco and Impressionist on hidden and just show the Expressionist one as that got the most votes.  I may show the different styles to a couple gift shops around town and see if anyone is interested in carrying them.  So these notecards are only rejected because Expressionist came out ahead.
Mermaid Dreaming (El Greco) style

Mermaid Dreaming (Impressionist) style


Mermaid Dreaming (Expressionist/Gr style) notecard

Cynthia, a friend, suggested I try putting the whole frame from the Greco style with the Expressionist style to have the complete arch. Trying it out.


Mermaid sees a Baby Kraken notecard
came out a tad dark, redoing it lighter

came out a tad dark, redoing it lighter
Postcards:


Mermaid Dreaming (impressionist style) postcard
Bumperstickers:
Bumper sticker is a bit smallish 3″x11″.  I should have doubled up the line and made the text bigger. So will do that next time it is on sale.  Other than that, it was cool.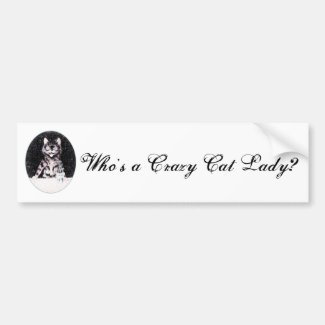 Crazy Cat Lady bumpersticker Bumper Sticker