Everything
My designs for sale @ Zazzle
This page will probably change as I will be checking out wordpress templates to see how I can get sections popped out more easily.  So far : 2 Notecards, 2 Postcards (same as notecards), 2 Post-its, 1 Bumpersticker
Notecards:
Post-its:
Here is where I started learning how to make things so people can individualize it with their name.  The flower one came out really pretty.
Postcards:
Bumperstickers: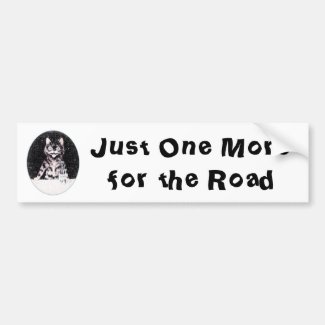 Cat Just One More for the Road Bumper Sticker
https://www.zazzle.com/cactuscatz?rf=238351641691534013
My first one on a keychain came out looking pretty cheap — they sandwiched the print between two pieces of acrylic — totally hokey so won't be doing any keychains.  Zazzle doesn't send you a prototype so I design what's on sale that day — they usually have 40% off  something every other day.  I design for one of the sale categories so I can order one thing to see how they look.  It seems to take two weeks for things to arrive though and I don't want to start marketing things until I see them.  Once I get the product and approve of them, I'll be putting them on a Cactus Dreams regular page so this prototype page will constantly be changing.  Since I only get about 10% on each item, it means I'll have to sell 10 things later to make up for paying for my own prototypes.
One problem I am having is that they don't have templates.  You upload and see it on the object — but there is some automatic resizing going on when it appears on the object so that it fills the whole frame so I can't tell if I need to make my image bigger or smaller.  Honestly I would rather do the resizing myself.  With a template, you usually can see the whole object and the safety and bleed margins are marked off so you can see if you're too close to an edge or too far in.  First time I've ever worked blind like this.  So another reason to wait until I see the object is I can see how far off my sizing is and if parts of my design fell out of the safety area.
The designs will all be mine but not all the artwork will be.  However I will only be using artwork I have the right to sell.  Some artwork has a license that I can make 500 sells of one product.  If I want to sell more than 500, I'll have to get an extended license.  I figure if I sell 500, I'll be happy to buy the extended license. Some images will be vintage images/quotes over 100 years old so copyright free.  Others will be my artwork or photographs or transformations of same.  My goal is 600 designs in 6 months so until I hit that goal, there is not enough time to make everything from scratch. I know the designs will be all over the place instead of consistent at first but I think I'll find my "voice" by the time I hit 600.
Why am I doing this?  I need income to live.  I want to find an alternative to a 9-to-5 job as I want to travel with my cats (okay, the cats are not so thrilled with the idea).  I want to go on an extended roadtrip as I have an idea for a photography book. And it would be cool to meet some of the people I've talked with blogging or in second life if they want to meet up. This is the dream/goal/whatever.